"I Wanna Go" is a song by American recording artist Britney Spears. It was added to mainstream radio playlists in the United States as the third single from her seventh studio album, Femme Fatale. The song was written by Shellback, Max Martin and Savan Kotecha, while being produced by Martin and Shellback. Spears first posted a snippet of the track in February 2011, prior to the album's release. "I Wanna Go" is a dance-pop and Hi-NRG song that includes elements of techno and a heavy bassline. Accompanied with a whistled melody and stuttering vocals, the song's lyrics feature Spears singing about losing inhibitions. "I Wanna Go" received mixed to positive reviews from critics. Some praised the track for being effective and highlighted its hook, while others dismissed the vocals as processed. "I Wanna Go" charted due to digital sales following the release of Femme Fatale in the lower regions of the US Billboard Hot 100 and the Canadian Hot 100, and also topped the South Korean International chart for three consecutive weeks.
The song later charted in France and New Zealand. Spears has performed "I Wanna Go" at the Femme Fatale Tour (2011). An accompanying music video for the song, directed by Chris Marrs Piliero, premiered on June 22, 2011. It depicts Spears daydreaming at a press conference about a series of events, including being chased by paparazzi cyborgs and being rescued by actor Guillermo Díaz. Piliero explained the video as "a ridiculous, exaggerated rumor about her life and career." The video references films such as Half Baked, Crossroads, Terminator 2: Judgement Day and Michael Jackson's Thriller. It received positive reviews from critics, who praised its fun spirit. "I Wanna Go" was written by Shellback, Max Martin, and Savan Kotecha, while being produced by Martin and Shellback. It was registered on Broadcast Music Incorporated under the legal title "I I I WANNA GO O O".
Britney Spears "I Wanna Go" Song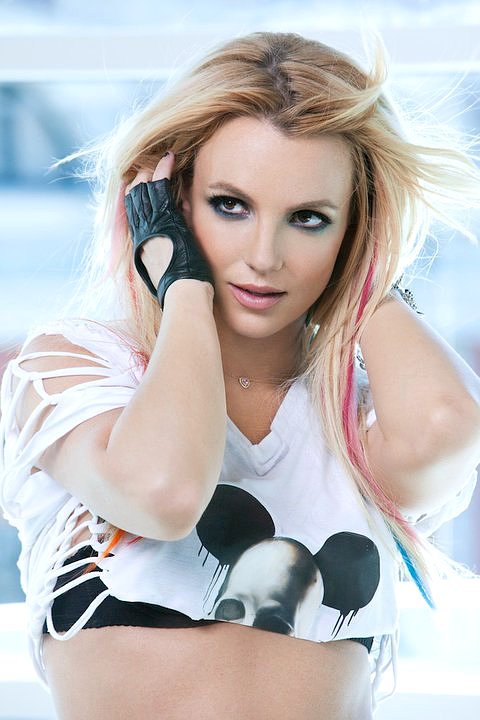 On February 22, 2011, Spears posted on her Twitter account a link to a 29-second clip of the song, while calling Martin "amazing". In an interview with Rolling Stone in March 2011, Spears stated that the song's signature whistle gets her "every time [she] hears it", adding that Martin's melodies are "incredible. [...] Who would have thought of that? There is nobody I feel more comfortable collaborating with in the studio." Kotecha spoke to Digital Spy about the song on May 3, 2011, stating that he had written it "about a year and a half ago" and it was likely a future single due to the positive reaction. A poll in which fans would choose the third single was launched on May 11, 2011. Two days later, "I Wanna Go" was officially announced as the third single from Femme Fatale by Jive Records through a press release. The cover art was revealed on June 6, 2011, and featured Spears on the music video set, wearing colored hair extensions and a top with a skeletal Mickey Mouse. On the week of April 3, 2011, "I Wanna Go" debuted at number seventy-three on the US Billboard Hot 100, while reaching number fifty-two on the Hot Digital Songs component chart, and number sixty on Canadian Hot 100 on the week of April 16, 2011, due to strong digital sales on the same week of the album's release. After its release as a single, it debuted at number 37 on the US Pop Chart on the week of July 2, 2011. The same week, it re-entered the Billboard Hot 100 at number 89. It also debuted at number one on South Korea's GAON International Chart, remaining on the same position for three consecutive weeks.
The video begins at a press conference where Spears, wearing a cropped Mickey Mouse top (paying homage to her days in The New Mickey Mouse Club), is being asked ridiculous questions such as, "Is it true you banned junk food, smiles, candy, sunshine and laughter from your Femme Fatale tour?". Fed up, Spears says to the reporters: "Fuck you, fuck you, fuck you, you're cool, fuck you – I'm out", referencing a scene of the film Half Baked (1998). She steps out onto the street, wearing a white leather jacket and black frilly skirt matched with studded combat boots. She signs a fan's copy of Femme Fatale and then blows a kiss to a baby as he whistles the melody of the chorus. She keeps walking and flashes several men, including a policeman. He searches her feeling up and down her legs, while she is bent over a car. Spears later walks away from the policeman, swinging handcuffs around her finger while he buttons his shirt.
She continues walking down the street, where she smashes the camera of a paparazzi that takes pictures of her. More paparazzi appear and she runs off, jumping up on top of a taxi. Spears then stands atop of it, wielding the microphone as a weapon against the paparazzi. Across the street, a marquee of the cinema besides her Crossroads 2: Cross Harder, referencing her film debut Crossroads (2002). After all the paparazzi, revealed to be cyborgs, have been knocked to the floor, they start crawling back with their eyes glowing red and their faces bursting with wires, similar to a scene in Terminator 2: Judgment Day (1991). A car suddenly pulls up and Guillermo Díaz tells her to enter it. In the next scene, Spears dances in the passenger seat in a pink bikini top, while Guillermo drives and pours a carton of milk over his face. His chest starts to spark, and Spears pulls open his jacket to reveal that he is also a cyborg. The video then cuts back to the press conference signaling Spears was daydreaming. Guillermo steps in and leads Spears out of the room. He turns to to the camera with his eyes glowling red, and his laugh is heard, referencing Michael Jackson's Thriller (1983).
The music video for "I Wanna Go" was directed by Chris Marrs Piliero and filmed in Los Angeles, California. In an interview with the New York Post, Piliero explained that Spears contacted him and asked him to put together a concept for the video. He stated that main idea came from the lyric "be a little inappropiate", saying, "That stood out but I didn't want to make a video that was all about sexual inappropriateness – that wasn't the vibe that either of us wanted. We were on the same page about exploring fun ways for her to be inappropriate. She's Britney Spears – how would you react if you asked for an autograph and she grabbed your ass?!?". Regarding not making "just another paparazzi video", Piliero commented that he watched all of Spears's videos and wanted to pull what he loved from them, but also give it something fresh.
He said, "One thing that stood out to me was all her references to the paparazzi were always more of a statement than an action. She'd never embraced the opportunity to lash out, fight back. I thought this was the perfect chance to be tongue in cheek but also get her to say 'f[uck] off!'". Piliero wrote the opening press conference scene not knowing if Spears would approve it, but was "stoked at how game she was." He explained that, having seen her on How I Met Your Mother and Saturday Night Live, he felt that none of her videos had really taken advantage of her comedic timing. "She never had a music video where she could show her acting chops and have fun with comedy while being super badass. That was my goal from day one: I wanted her to be funny, badass and super cool", said Piliero. He also stated that the Crossroads reference "[i]s a fun Easter egg for fans. Plus, Die Hard 2: Die Harder is the most ridiculously awesome way to title a sequel. It just felt like the right thing to do. When Britney saw it, she loved it."