Salma Valgarma Hayek Jiménez-Pinault (born September 2, 1966 in Coatzacoalcos, Veracruz) is a Mexican actress, director and producer. She is one of the most prominent Mexican figures in Hollywood. She received a Best Actress Oscar nomination for her role as as Frida Kahlo in the movie Frida.At the age of 23, Hayek landed the title role in Teresa (1989), a successful Mexican telenovela that made her a star in Mexico. In 1994, Hayek starred in the film El Callejón de los Milagros (Miracle Alley), which has won more awards than any other movie in the history of Mexican cinema. For her performance, Hayek was nominated for an Ariel Award. Hayek moved to Los Angeles, California in 1991 to study acting under Stella Adler. She had limited fluency in English, which was attributed to her suffering from dyslexia. Robert Rodriguez and his producer and then wife Elizabeth Avellan soon gave Hayek a starring role opposite Antonio Banderas in 1995's Desperado. Hayek had a starring part opposite Matthew Perry in the romantic comedy Fools Rush In. She followed her role in Desperado with a brief role as a vampire queen in From Dusk Till Dawn, in which she performed a table-top snake dance. In 1999, she co-starred in Will Smith's big-budget Wild Wild West, and played a supporting role in Kevin Smith's Dogma. In 2000, Hayek had an uncredited acting part opposite Benicio del Toro in Traffic. In 2003, she reprised her role from Desperado by appearing in Once Upon a Time in Mexico, the final film of the Mariachi Trilogy. Around 2000, Hayek founded film production company Ventanarosa, through which she produces film and television projects. Her first feature as a producer was 1999's El Coronel No Tiene Quien Le Escriba, Mexico's official selection for submission for Best Foreign Film at the Oscars. Frida, co-produced by Hayek, was released in 2002. Starring Hayek as Frida Kahlo, and Alfred Molina as her unfaithful husband, Diego Rivera, the film was directed by Julie Taymor and featured an entourage of stars in supporting and minor roles (Valeria Golino, Ashley Judd, Edward Norton, Geoffrey Rush) and cameos (Antonio Banderas). She earned a Best Actress Academy Award nomination for her performance.
Official Grown Ups Trailer - In Theaters 6/25

Hayek has been credited as a song performer in three movies. The first was Desperado for the song Quedate Aquí. In Frida she performed the Mexican folk song La Bruja with the band Los Vega. She also recorded Siente mi amor, which played during the end credits of Once Upon a Time in Mexico. She contributed to Happiness is a Warm Gun in Across the Universe as the singing nurses. Hayek has been a spokesperson for Avon cosmetics since February 2004. She formerly acted as spokesperson for Revlon in 1998.[citation needed] In 2001, she modeled for Chopard and was featured in 2006 Campari adverts, photographed by Mario Testino. On April 3, 2009, she helped introduce La Doña, a watch by Cartier inspired by fellow Mexican actress María Félix. Hayek was also featured in a series of Spanish language commercials for Lincoln cars. Consequently, sales of the Lincoln Navigator among Hispanics increased by twelve percentage points. In spring 2006, the Blue Star Contemporary Art Center in San Antonio, Texas displayed 16 portrait paintings by muralist George Yepes and filmmaker Robert Rodriguez of Hayek as Aztec goddess Itzapapalotl. In July 2007, The Hollywood Reporter ranked Hayek fourth in their inaugural Latino Power 50, a list of the most powerful members of the Hollywood Latino community. That same month, a poll found Hayek to be the "sexiest celebrity" out of a field of 3,000 celebrities (male and female); according to the poll, "65 percent of the U.S. population would use the term 'sexy' to describe her".[48] In December 2008, Entertainment Weekly ranked Hayek number 17 in their list of the "25 Smartest People in TV."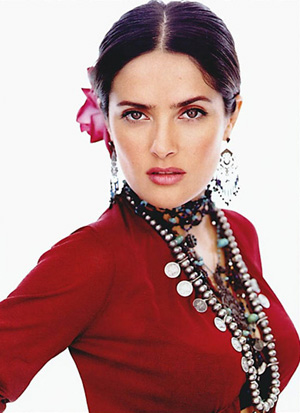 Salma Hayek Unique Costume With Red Color